If you're craving some good apples, and all the goodies made from apples, there's no better place than Apple Hill. About 40 minutes from Sacramento, up Hwy 50, it's a great place to take the kids and spend the day.

We took a drive up the hill for our semi-annual trip to Apple Hill this past weekend. It's such a pretty area, and the kids really enjoy all that Apple Hill has to offer. If you haven't been up there before, or if it's been awhile, and you're looking for something to do one day, I highly recommend it.

There are so many farms in Apple Hill, and only so much time, so I'm highlighting the most kid friendly spots. They each have a variety of activities for the kids to do.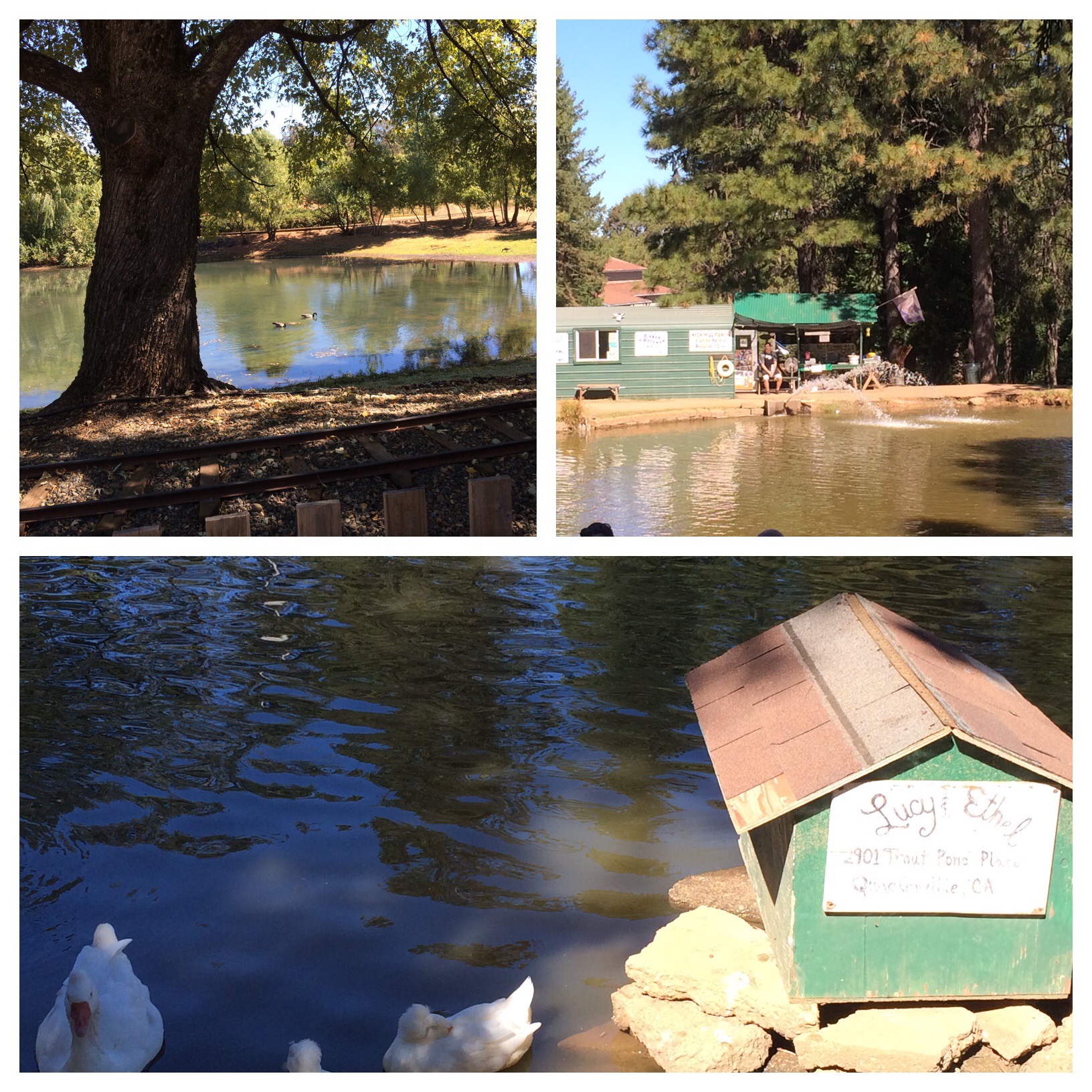 Number one on our list is High Hill Ranch. We love this place! They have pony rides, hay rides, and fishing in a pond. On the weekends, craft vendors set up their booths, so there's plenty for you to do too! They have food available to buy, but you can bring your own lunch. They have picnic tables, or bring a blanket and have a picnic on the grass under a tree. Better get here early because this place gets packed!
Just a short walk up the hill is the Fudge Factory Farm. Besides fudge, they have many mouth watering sweets in their little store. It's usually pretty busy, but worth the wait! Outside, there's a kids play area, so the littles can keep busy while one of you "gets the goods" inside.
Denver Dan's, which is #14 on the map, has pony rides for the kids, and you can pick up a pumpkin while you are there too.
Kids Inc #5 has arts & crafts, a corn maze, and a nature tail. They also have pumpkins.
The kids will love the chickens, pigs and crafts at Mill View Ranch #23. If it's a train ride you're after, Bluestone Meadows #56 has barrel train rides, plus rubber duck races, gold panning & more.
At Sloan Winter's Mountain Orchard & Garden #12, the kids will have fun on the hay & tractor rides. Plus they have farm animals. You can pick up a pumpkin here too.
Abel's Apple Acres #38 has a large maze (only $3 for an all day wristband!), pony rides and a slingshot for the kids to bounce on. There are also a lot of wood cutouts for photo-ops.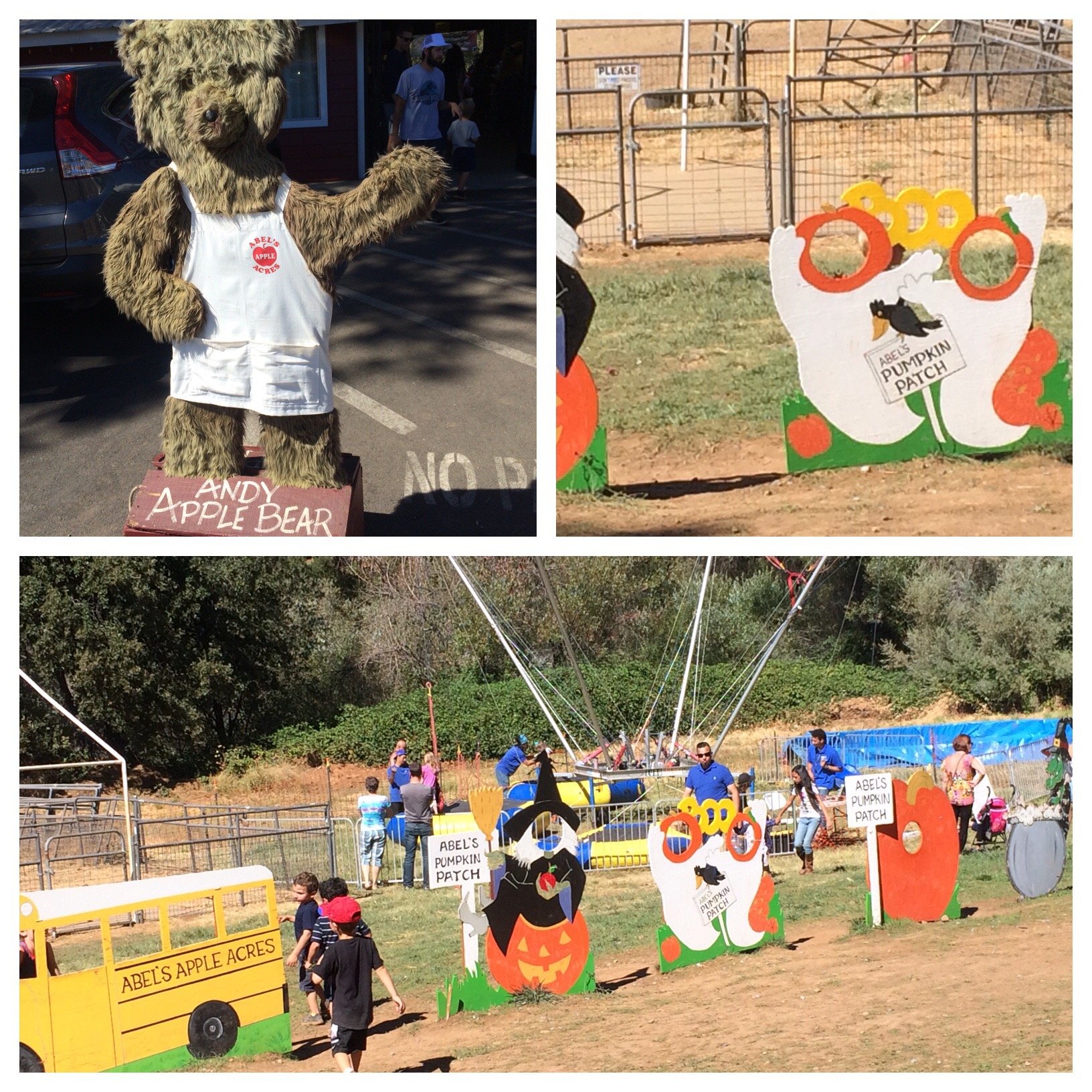 There's one more on our go-to list & it's El Dorado Orchards. We always stop here for the train ride and crafts. It's on North Canyon Drive
So what about the apples? There are so many varieties to choose from. Some farms even let you pick your own.
And don't forget all the pies, cakes, donuts, cider and everything else apple they have to offer. Make sure you go there with an appetite! You can even buy unbaked frozen pies (a real treat to bring out on Thanksgiving and bake!).
To find out more, there are 2 websites for Apple Hill now (I was told some of the growers are no longer part of the original Apple Hill Growers Association anymore):
Apple Hill Growers Association
(they have a map of the growers that are still in the association)
(this is an app)
You'll notice El Dorado Orchards is no longer on the official map (because they aren't in the Association anymore). If you want to see an old map, with all of the growers together, you can find one by doing a quick search online for Apple Hill maps.
NOTE your best chance of having everything open is on the weekend. If you plan to go on a weekday, it's best to contact the farms you want to visit to make sure what you want to do is open.
Quick links to get you where you want to go:
Macaroni Kid Roseville-Rocklin-Lincoln is published weekly to keep parents "in the know" about great activities in our area for the kids. Subscribe to our e-newsletter so you don't miss a thing and be eligible to enter our giveaways! If you already subscribe, help us spread the word to others!
Get social with us on Facebook, Twitter, Instagram, YouTube, and Pinterest! Sharing is caring, share us with your friends and family today!
Check out the other Macaroni Kids sites in our area!
We do our best to ensure that all event information is accurate, however sometimes dates and times get changed, or an event may be canceled, and we are not made aware of it. It is always best to check with the event website or Facebook page listing to be sure before going.
Save
Save
Save
Save