The breast-and-bottle relationship can really go a few different ways. At worst, it's an oil-and-water type scenario, and at best, the two feeding methods have a Jobs and Wozniak-esque synergy. How do we reach the latter? It's both art and science, and nanobébé is a pioneer in perfecting the balance. The brand has created the first bottle specifically designed for breastmilk and breast-and-bottle feeding, and they've got some serious street cred in the infant feeding space. Time Magazine just named nanobébé to their Most Innovative Products of the Year list, winning the Health and Wellness category, and Business Insider named nanobébé "the smartest bottle ever made." Impressive is an understatement.
When we do things, we like to do them right. You do, too. So, to lay out a plan to successfully balance breast and bottle, we went right to the experts at nanobébé. Here's how the right bottle can make all the difference in balancing breast and bottle:
Shape Matters
While they essentially perform the same task—feeding baby—traditional baby bottles and breasts have very little in common. And a baby who is well-versed in breastfeeding can't exactly Google what to do with that foreign-looking object that we know as a bottle, meaning the long, cylinder shape of a traditional baby bottle could be rejected by a baby relying on his instincts. "Change can be hard for all of us—especially for babies. Transitioning from breastfeeding to a bottle feeding is challenging for babies, and for moms. The new breastmilk bottle by nanobébé has a breast-like ergonomic shape, which makes it easier for the baby to instinctively connect," explains Rallie McAllister, MD, MPH, a family physician and coauthor of The Mommy MD Guide to Your Baby's First Year. Plus, nanobébé's domed shape and concave base make it easier for tiny hands to hold from a younger age (three cheers for self-feeding).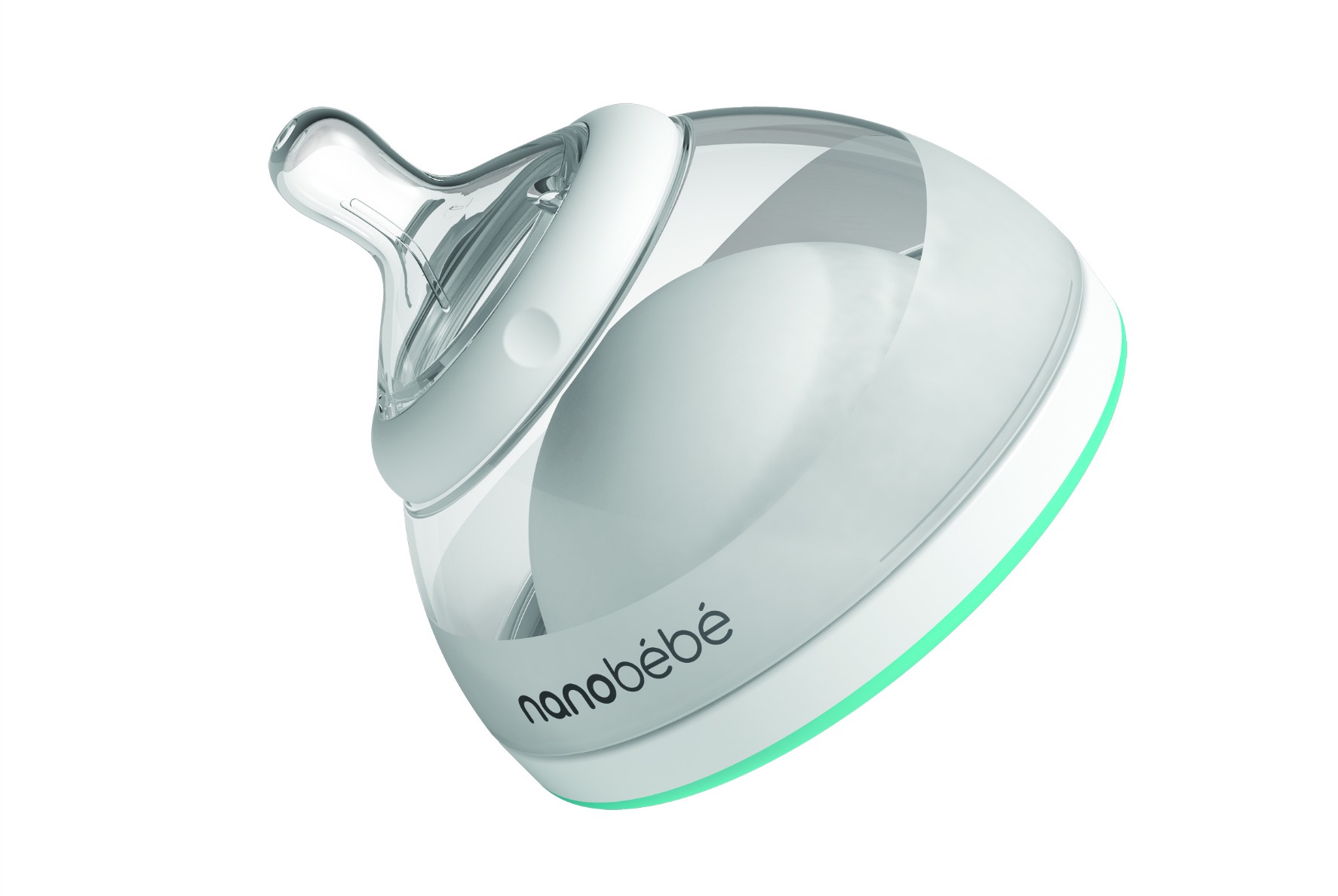 Consider Quality Control
With all the work mothers do to breastfeed, pump (and clean, and store) breastmilk, it's important the right tools are in place to ensure that liquid gold is as high quality when pumped and stored as it is straight from the source.
Breastmilk is a real biological fluid. Just as humans get weaker with fever, the vital nutrients inside the breastmilk also weaken with heat exposure. That being said, we have yet to come across a baby who enjoys drinking cold breast milk. Warming is necessary—but there can be a large margin of error. "[When warming] breast milk in the traditional way, there is a good chance the nutritional and immunity-boosting properties of the milk [are being damaged]," explains Dr. McAllister. "Additionally, the milk is likely heated unevenly, causing hot spots, which can harm the baby," she continues.
Back to that oh-so-cool shape of the nanobébé bottle that helped earn the brand its nickname of "the Apple of Infant Feeding": it's not just for looks, but for smarts, too. It's specifically designed to care for the fluid inside it—breastmilk. The bottles are biomedically engineered with a concave shape that spreads the breast milk into a thin layer and allows it to warm at safe temperatures, protecting nutrients from damage and preventing hotspots. It's also an efficient design: the larger surface area allows breastmilk to heat and cool twice as fast as a traditionally shaped bottle, which also helps preserve critical nutrients.
Pump the milk. Pour it into a storage bag. Seal it up. Transport the milk in a cooler back home. Freeze the milk. Thaw the milk. Pour the thawed milk from the storage bag into the bottle. Feed baby. Sound familiar? The journey of breastmilk from breast to baby's mouth can be wild one, full of opportunities for poor handling. nanobébé's universal pump adapter allows mothers to pump directly into the bottles, which can then be stacked neatly and stored for future use—no baggies, no pouring, no flat freezing (and potential leaking) necessary.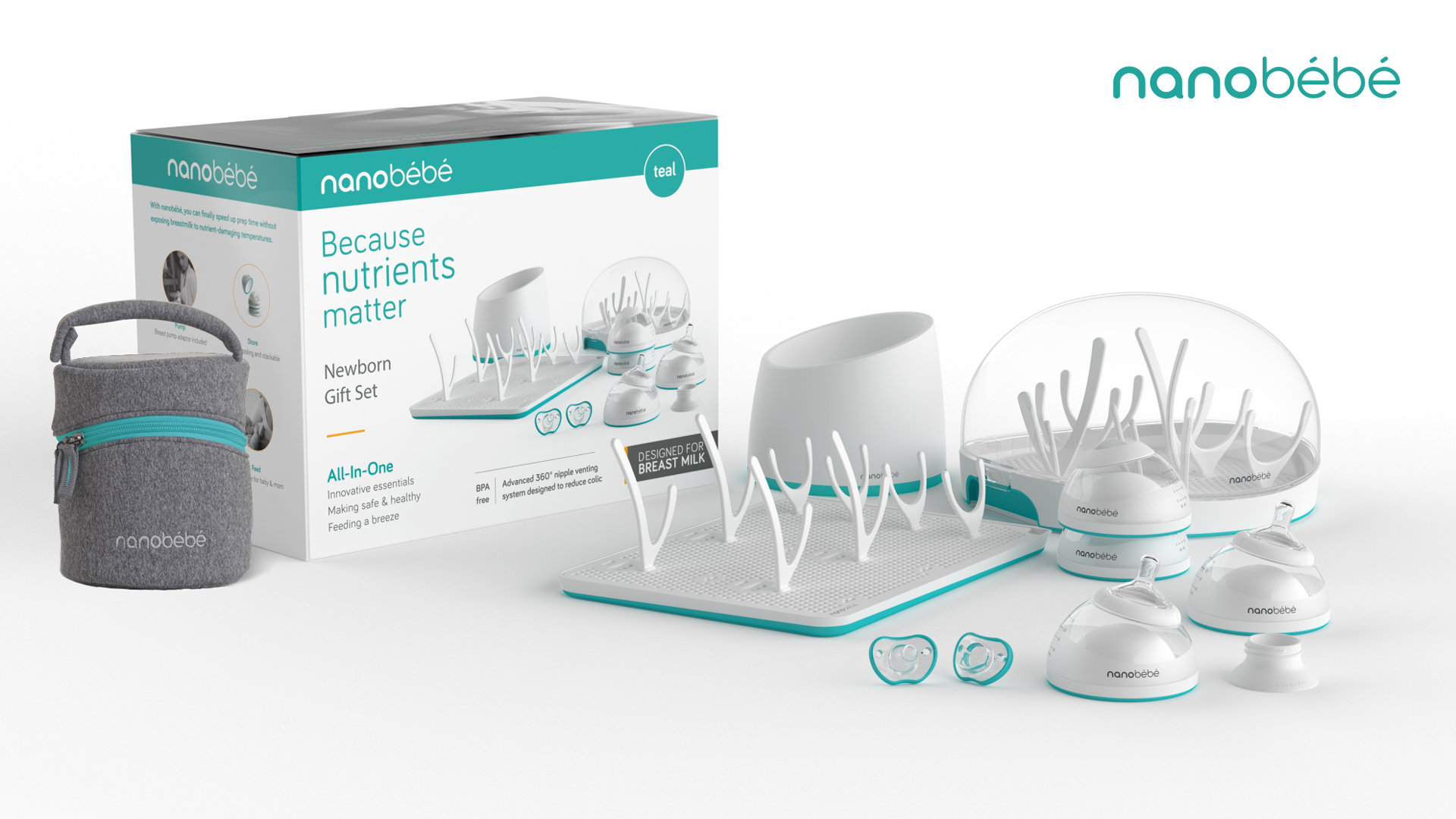 Set the Mood
As you begin to try bottle-feeding with your breastfed baby, set yourself (or a caregiver) up for success with a few key elements:
Keep Time On Your Side. Need to be out of the house in 15 for baby music class? Probably not the time to introduce a bottle. Even if your baby is a quick nurser, bottle feeding can be an entirely different ball game. Be sure to give some extra time for those first bottle feedings.
Change Positions. If a baby refuses the bottle one way, try another…and another. And then go back to position one again. You might end up in a comfortably weird position, (football hold while bouncing and whooshing, anyone?) but as long as baby is in a semi-upright upright position, give it a go.
Keep Calm. Whether it's you or a caregiver offering the bottle, go into it with confidence and remain calm. Your baby will (hopefully) follow. And if calm is what you're after, never (ever) leave a hungry baby waiting. Insider tip: with a warming speed twice that of traditional bottles, nanobébé is a game changer for middle of the night feeds—or anytime baby needs a bottle and he's letting you know he needs it STAT.
nanobébé is available at buybuy Baby, Amazon, Bed Bath and Beyond (online), Walmart and Target.
Quick links to get you where you want to go:
Macaroni Kid Roseville-Rocklin-Lincoln is published weekly to keep parents "in the know" about great activities in our area for the kids. Subscribe to our e-newsletter so you don't miss a thing and be eligible to enter our giveaways! If you already subscribe, help us spread the word to others!
Get social with us on Facebook, Twitter, Instagram, YouTube, and Pinterest! Sharing is caring, share us with your friends and family today!
Check out the other Macaroni Kids sites in our area!
We do our best to ensure that all event information is accurate, however sometimes dates and times get changed, or an event may be canceled, and we are not made aware of it. It is always best to check with the event website or Facebook page listing to be sure before going.